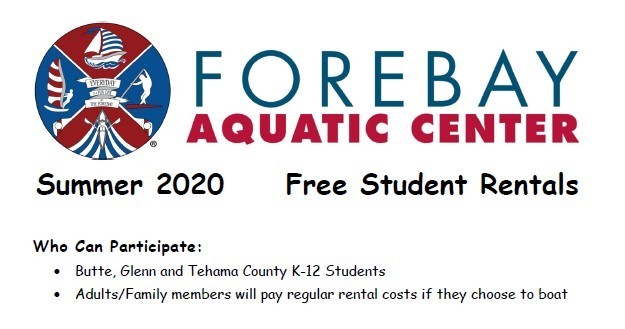 Free Student Rental this summer at Forebay Aquatic Center!
Robin Indar
Monday, June 08, 2020
Free Summer rentals for students at the Oroville Forebay Aquatic Center!
Who Can Participate:
• Butte, Glenn and Tehama County K-12 Students
• Adults/Family members will pay regular rental costs if they choose to boat
When and Where:
• Monday – Thursday 1:00p – 5:00p
• Starts June 8 through July 19 (Not valid July 3-5 holiday weekend)
• 930 Garden Drive Oroville, CA 95965 Forebay Aquatic Center
(530)-774-7934 Web site: forebayaquaticcenter.com
What are the Costs:
• Free to all K-12 students, all adults/family members regular prices
• $8 per car to enter the North Forebay State Recreation Area
• Required: Sign in each student with school, grade and age.
What is Provided:
• Free rentals: Kayaks Standup Paddle Boards, Peddle Boats, Canoes, Floating Toys and Hydro Bikes
• A water safety introduction and mandatory lifejackets for each student, brief skill lessons if needed and a on duty lifeguard at all times.
What it is NOT Provided:
• It is not a drop off and leave students. An adult must be present and actively manage your youths.
• A 2 HOUR MAXIMUM RENTAL PER STUDENT PER VISIT DAY